How The Police Have Embraced Online Networks As Crime Fighting Tools
Law enforcement has long depended on the eyes and ears of the community to help them identify suspects, conduct investigations, capture fugitives and recover stolen property. With the rise of the computer age and the interconnectivity of today's world, however; they've found this is easier than ever, thanks to Facebook, Twitter, YouTube and other social media networks. From the local sheriff's department to the FBI and DEA, social media has become one of the most important crime-fighting tools available to law enforcement agencies.
Catching Criminals through Social Media
While social media as we know it today was not fully created in 2006, it is the year many people began to see how influential it might become. MySpace was growing rapidly, and Facebook — once only used to connect college students to their peers — was finally available to anyone with an email address. Tech-savvy police officers soon began monitoring social media posts of suspects, and the potential of this new type of online network began to be used as a crime-fighting resource.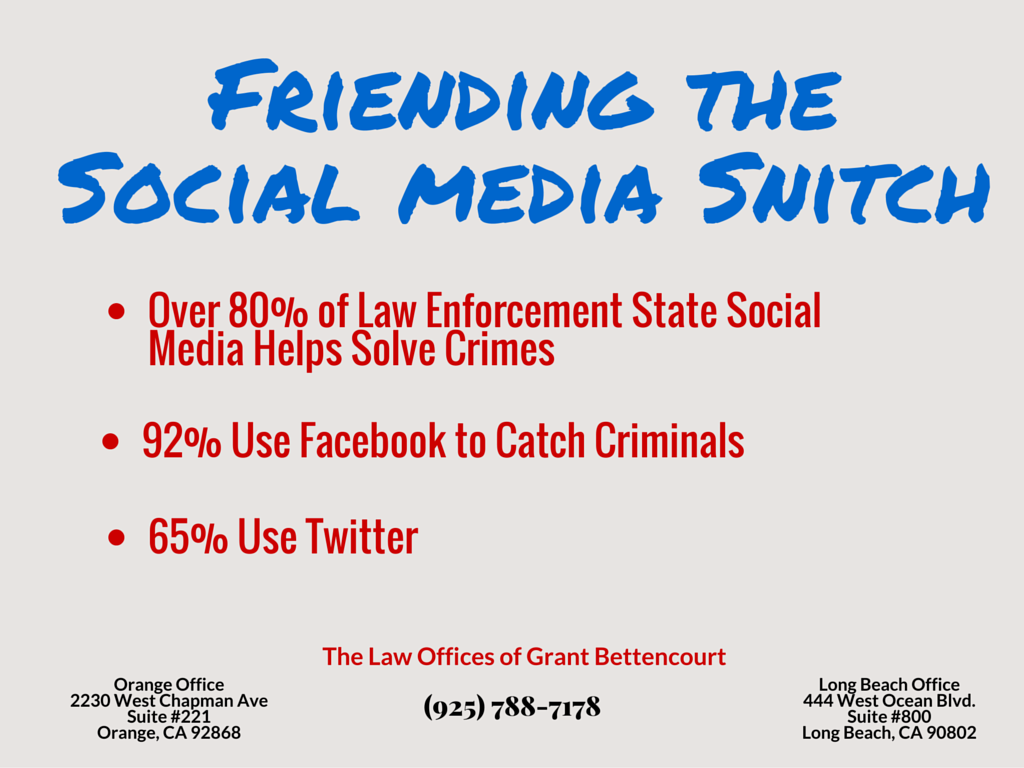 One of the earliest adopters of using social media in crime fighting was Cincinnati Police Officer Dawn Keating. By 2008, Keating, a specialist in the city's Real Time Crime Center, had identified a number of gang members as well as gang leadership thanks to information posted on the members' Facebook profiles. This information provided the evidence necessary to get warrants, allowing the police to arrest and convict these gang members.
It took a few years before social media monitoring became a commonly used tactic, but today most departments lean on it to assist them in a wide variety of criminal investigations. It turns out that even when a person has no knowledge of a crime and is not willing to speak to police directly, social media can be a rather informative snitch. Posts on Facebook, YouTube and other social media sites commonly lead to arrests and convictions for:
-Theft
-DUI
-Drug offenses
-Assault and battery
-Rape and sexual assault
-White collar crimes
In some cases, police monitoring of a suspect's social media posts can work in the suspect's favor as well. In 2009, New York teen Rodney Bradford's Facebook post — typed from a computer in his father's Harlem apartment — provided the alibi he needed to avoid criminal prosecution for robbery.
For most crimes, local police departments rely on officers and detectives to monitor profiles during investigations. With some crimes, though, they may call on the help of experts. Most federal agencies have social media specialists whose input can be valuable in some investigations. If a serious crime such as homicide has been committed, Facebook, Twitter and other social media platforms will also often cooperate with police to provide any information posted on private profiles or sent through private messaging.
Public Sharing On Social Networking Platforms
The online habits of many criminals often make the job easier for police. According to a January 2014 survey conducted by Pew Research Center, almost 75 percent of all adults who have Internet access in the United States regularly participate in social networking. Some of these social media users don't even bother to adjust their privacy settings before they post about their illegal activities.
It has now become commonplace for police to search for social media profiles of suspects as a part of their routine investigation of a crime, and what they find is often telling. It is not uncommon to find public photos of a suspect with illegal drugs, drug paraphernalia or stolen property. A man charged with a drug offense may list his occupation as a "street pharmacist," or a thief may post pictures of stolen property for sale. Suspects often deny things when questioned by police that are easily confirmed through social media statuses, friends' lists or check-ins.
While status updates and tweets are evidence enough, some criminals take it a step further by posting videos online. In 2012, almost half of all adult internet users were uploading photos and videos online. While more recent numbers are not available, one can only assume they've risen rapidly as cameras and video recording capabilities have been integrated into almost every mobile phone on the market.
Law enforcement has certainly found this to be true. Videos on YouTube have led to arrests and convictions nationwide, for crimes including rape, assault, robbery and vandalism. Facebook also allows video uploads. In some cases, the perpetrators have actually been the ones who posted the video of the crime. In others, a friend or other witness shares the criminal behavior.
What About Privacy Settings?
Facebook, Twitter and Instagram all allow users to either post publicly or to limit who sees their posts based on who is on their list of accepted followers or "friends." These privacy settings are very important when it comes to online safety, especially for teens. They, however, don't hinder law enforcement as much as many criminals hope.
Even when criminals are not sharing their illegal activities openly, privacy settings often do little to stop police. In most cases, one of the suspect's online connections is more than willing to share the post with police. All that is needed is enough information to give them probable cause, and a search warrant can offer full access to all of the suspect's Facebook posts.
Freebooting Will End Video Copyright Infringement
Approximately 75% of all videos were downloaded and then uploaded with someone else's information on the video. This is known as freebooting, and this copyright infringement problem has brought about Facebook's new video matching system. A third-party must be able to review you video now if you want to share it privately. If you do not consent, then private sharing is not authorized. This means criminals who are more cautious about sharing illegal activity privately are more likely to be caught now.
False Friends on Facebook
Other times, police officers will actually create a false identity and "friend" the suspect on Facebook. This can be used to gather information for an investigation, as well as to track fugitives and child predators. Some fugitives have even been caught because they "checked in" on Facebook or Foursquare. In one case, a man fled Britain with $130,000 in stolen jewelry. He returned less than two years later, and was apprehended after he posted pictures of his vacation and tagged his location on Facebook.
Stolen Items Listed Online for Sale
Police in Austin, Texas, are using Facebook to track down stolen property, and it has proven to be very successful. Their Burglary Task Force has a dedicated Facebook page where officers post pictures of items missing after burglaries, as well as information about suspects. These officers have found that citizens can often connect items listed for sale on Craigslist, Facebook or other sites to this stolen property, leading police to the perp. With the help of social networking, the task force has more than doubled their success rate in solving these crimes. Even in cases when an arrest has not been made, more victims are being reunited with their stolen property than ever before.
Social Media as a Public Safety Tool
Law enforcement agencies have also embraced social media as an important tool for spreading information, including real-time updates and public safety directives. Local police departments often post about traffic accidents, fires and other hazards on Twitter and Facebook and may also share information about officer-involved shootings, stand-offs and other crimes in real time. These accounts are also used to promote community activities such as car seat checks and discuss public safety goals specific to their city.
Of course, they play a role in fighting crime as well. It used to be that the general public only saw wanted posters when they visited the post office, but today social media is getting the information about fugitives and those wanted for questioning to a much wider audience. Posting information about suspects, including pictures or physical descriptions online has led to arrests for almost every department who employs this tactic. Many police departments also offer ways to submit tips through direct or private messaging.
While this usually works because someone recognizes the suspect, there have been situations where the suspect has commented on the post himself, or even taunted police. Needless to say, this did not work out well for the suspect in the majority of these cases.
The Role of Social Media in Law Enforcement Today
Like the general public, police officers and other law enforcement officials have embraced the power of social media to network with those in their communities. In addition to having their own personal accounts, it has become standard for departments to operate Twitter and Facebook pages by checking these networking platforms when investigating crimes.
With the widespread utilization of social media in crime investigations, police departments and other law enforcement agencies are also developing policies and standardized procedures about their use. Many officers are now being trained on investigative techniques that employ social media, as well as other ways to use the platforms without jeopardizing the safety or merits of the case.
For those who are under investigation for a crime, it may be a good idea to check personal social media accounts to ensure nothing was posted that could be seen as incriminating. Most people are aware that an experienced criminal defense attorney will recommend a person not to talk with police without an attorney present. Due to the large amount of public sharing on social media, however, many suspects are doing this inadvertently. It often has a profound effect on the criminal case being built against them.